This was our kitchen's eat-in area table. The colour is kind of passé. That yellow wood was driving me crazy. It just didn't go with the space. But I repaint furniture, so why not repaint stuff I already have, right?
(That dangly black and white pompom is my cat's toy, lol!)
Even though this is a coffee table,this was my inspiration, paint wise and finish wise. I just love the dark stained top.
From Red Hen Home
So, armed with my sander and some varnish stripper, I tackled the top of this fair size table and the seats of its six chairs. It took a lot of elbow grease and time. Finally she was all prepped and ready to receive the stain. And this is what it looked like after I stained it a couple of times:
Uuuuuuuugly!! I was so disappointed. All that work and it looked really bad. For some reason the stain didn't take and suspect it's because the varnish was not completely removed. I'm not that experienced with furniture stripping and I probably used the wrong product.
This lead me to think that I don't really like staining. I'm the type of person who likes to see immediate, successful results. So I decided to enlist the help of Annie Sloan and her chalk paint. I used Coco for the top and the seats, and Old white for the spindles and the legs.
Then, I got the genius idea to paint some pictures on the table. I decided to use my Silhouette to cut a stencil with the words "Bon Appétit" framed with beautiful scrolls. Well. Apparently that wasn't such a genius idea. It took me three or four attempts to cut the stencil, because it kept getting jammed in the machine. It ate almost an entire roll of vinyl! Gaaaaah! I've used my Silhouette successfully before, but the pattern must have been too large and intricate.
Sooooo had to come up with an alternative. I had just enough vinyl to cut a plate and utensils pattern and a set of salt and pepper mill. I used the contours of the patterns as a stencil and filled it in Old White.
And this is what it looks like after applying the clear and dark waxes:
Not bad, right?
While it doesn't quite look like the original inspiration, despite all the aggravation it caused me, I'm pretty happy with how it turned out. Certainly beat the 80's yellow! And my family loves it too. My husband wanted to get rid of the table before, but now I think it will stay with us just a little while longer!
What could have been a two-day makeover if I had just painted it turned into a week and a half affair.
Next time I'll know. Stick with what you know kiddo!
Linking up to: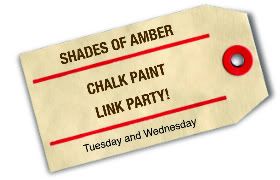 My Uncommon Slice of Suburbia