I'm obsessed with chairs. Particularly when they're left at the curb. I feel it's my mission in life to save them.
So when I saw this little gem, of course, she had to come home.
(Why do I make chairs girls? It has to be those curvy legs I think.
If it was a big fat recliner, then it would definitely be a boy, don't you think?)
My daughter said this chair was sick. Which, in her generation's lingo, is a good thing.
Lots of appeal, that's for sure.
The seat was well upholstered, but it didn't have a trim. I'm not quite into that Restoration Hardware deconstructed look at this point, which is what it reminded me of. Plus the colour of the fabric was somewhat faded and sported some dirt marks.
Loved the silver and although you can't tell in the picture, it was really, really badly painted. It had been spray painted, but not very well and there were drips all over which had to be sanded down.
I painted the seat (yes, I painted the fabric!) with Annie Sloan Chalk Paint in Duck Egg. The paint went on amazingly well. It covered perfectly with one coat, but I put two coats on anyway for durability. I then waxed it and buffed it. It looked amazing!
I hot glued on a silver braid trim on that unfinished edge.
I then painted the frame with ASCP French Linen, but I really was not feeling it. I missed the silver.
I got a little jar of
Martha Stewart liquid silver gilding
and applied it. I can't believe how far that stuff goes! It's a tiny pot, maybe slightly bigger than a bottle of nail polish and I did the whole chair and still have nearly half the pot left!
I'm thrilled with the results. The silver contrasts beautifully with the Duck Egg and it definitely has a Tiffany appeal to it.
I have to say that I was greatly inspired by
Amy's chair at Maison Decor
, although her blue is closer to the true Tiffany blue because it is a custom mixed colour she created.
I'm so amazed at how well the seat turned out with the ASCP! The wax gives it a beautiful sheen.
Sterling darling.
It's so elegant, I'm still debating whether or not I should keep it or sell it!
*****
This Friday, I get to realize one of my biggest dreams. You see that beautiful grand dame on the left side of my blog, Miss Eiffel? Well, I will finally get to meet her in person. Yes, my hubby and I are flying out to Paris for two glorious weeks. Two. Weeks. I'm so thrilled. Tick one off the old bucket list! I am planning on taking a gazillion pictures, I have even bought an extra SD card for the camera. I will definitely post some pictures. À bientôt!!
Linking up to: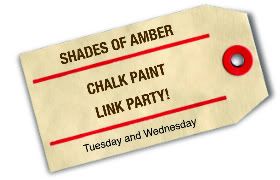 Miss Mustard Seed's Furniture Feature Friday
2805 Potpourri Friday no. 35