I have been a furniture rescuer for a long time. I pick up chairs and other things curb side. Our city has bulk pickup days every month where you can put out big items like couches, etc. It is not rare to see nice items that are just slightly scratched and that people put out because they are tired of them. They just need a little TLC. I also scour thrift stores and garage sales in search of that perfect item to make over. I don't see an old, decrepit thing, I see the potential to remake it into something scrumptious.
My husband cringes but he lets me roll with it. We'll be celebrating our 25th anniversary shortly, and I thank him for his infinite patience. (I did let him have his midlife crisis at 50 when he bought a Corvette, his dream car. He loves that car. I call it The Precious.)
But I digress. I am always searching blogs and websites for inspiration and that is how I discovered Annie Sloan. No she's not a cowgirl from the Wild West, even though her name sounds like it. Annie Get your Gun. Annie the Sloan Ranger. Annie Oaks Sloan.
She's a British lady who created this wonderful chalk paint. This paint is perfect for imperfect people. It is very forgiving. You just slap it on, you don't need to sand or prime. And you can give furniture the most beautiful historical look, especially when you distress it and use the dark wax to give it an well-aged, patinaed look.
After reading so much about this wonderful paint, I decided to try it. I ordered a couple of quarts from
Piorra Maison
in Montreal. Tried it, loved it and have since ordered more.
I recently acquired a good loot at a garage sale. For a whole $3, I got 4 old frames, a very chippy child's rocking chair in pieces, a waxy, messy looking wood candlestick and this breakfast tray.
Love the rattan edge!
While it had a nice vintage look to it, I thought it was too vintagey. In a dirty way.
The legs were very wobbly too.
So, I cleaned it, glued back the loose legs and gave it a couple of coats of ASCP Paris Grey. Then, inspired by its original mauvy colour, I traced this antique looking French ad graphic I downloaded from
The Graphics Fairy
and went over it with a raspberry, mauvy acrylic paint. Gave it a coat of clear wax, sanded it down to distress it and went over it with the dark wax and the clear wax.
The final step was a good buffing and here she is in all her glory, ready to grace someone's lap with a lovely breakfast.
I need to find a place to sell my stuff. If only to support my habit. I probably also need a space somewhere to store all this stuff. So that I don't paint in the garage so close to The Precious. I hate to think about what would happen if paint got on The Precious. We might NOT be celebrating another 25 years, lol!
Linking up to: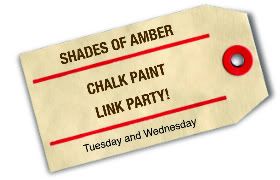 and
Miss Mustard Seed's Furniture Feature Friday