Good morning Folks!
It is definitely feeling like fall now. We turned the heat on a little bit, to take the chill out of the air, it's raining and the wind is blowing, bringing down a considerable amount of leaves with it. Time to put the flip flops away and start wearing long pants, sigh! (On the plus side, I don't have to shave my legs so often, teehee!)
I found this little art deco demi-lune table at a garage sale for a song:
I painted it with ASCP Country Grey, followed by the clear wax, but I thought it needed a little something something. I had just found this
Inka Gold gilding wax
at a local craft store, which I bought in three colours: Old Silver, Gold and Old Gold. I was dying to try it and I had to think of a way to make this little table a little more glam.
This is what I came up with, diamonds set in a harlequin pattern:
It was easy to do. I started by putting one piece of tape in a carefully angled way, then I used another piece of tape as a spacer between each piece of tape. Then, I crisscrossed the other way.
I applied the wax with a soft cloth. I used the Old Silver, which has a gold undertone that makes it rich looking. This wax is like any other wax: you let it dry and then you buff with a soft cloth. Easy peasy and the results are beautiful! I like the fact that it offers a nice, subtle contrast.
This table is now for sale at
Rustic and Refined Interiors
.
*******
P.S. - Stay tuned: I will be having my first giveaway shortly! It's a good one!
********
Linking up to the following parties:
Ivy and Elephants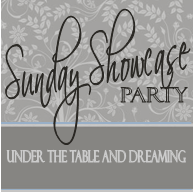 Potpourri Friday at 2805
Miss Mustard Seed's Furniture Feature Friday