When we moved into our present house nearly two years ago, our girls were respectively 19 and 16. Time to say goodbye to the childhood bedrooms in the old house and embrace a more grownup, more sophisticated look.
My two girls are different like night and day. One is blonde, the other is brunette, one is chatty and outgoing, the other is quiet. I love the fact that they are so different, it makes life so interesting!
So when it came to making decorating decisions, my oldest daughter had very specific ideas, while the youngest said "Do what you want. I'm happy with what you choose." Sooo different!
This is the eldest's new bedroom:
We decided not to spend a great deal of money, seeing as she was going to university and wouldn't be there all that much. I think our total cost was less than $300!
The starting point was the bedding which is a beautiful greyish shade of purple. We painted the back wall as an accent wall in a similar colour and the other three walls in a lighter shade of the same colour.
My daughter was going from a very large bedroom to a smaller one (she kindly "let" her younger sister have the bigger bedroom this time around). So that meant getting rid of a few pieces of furniture, one of which was her large desk. Instead she came up with the idea of putting a little shelf with a chair and a mirror to act as a make-up table and a spot for her laptop. We bought the shelf at Ikea with two metal brackets for the ends and we cut the shelf to size. It fills the space perfectly and looks light and uncluttered.
The chair was a curb rescue. It kinda looked pathetic, but I loved its art deco lines.
That seat was so grimy and funky, I just kept the wood form (which I disinfected!!) and I reupholstered over with new foam and this fun, modern fabric:
Aah! Much better! And the purple matches the room perfectly!
I spray painted a thrifted mirror with white glossy paint.
We picked up a gorgeous drum light fixture with crystals in the same colour as the
bedding and some curtain panels with grommets at Bouclair, a local discount home decor store. The deep purple of the curtain panels picks up on the colour of the flowers embroidered on the bedding.
(I must apologize for the poor lighting in the photos, the room doesn't receive great outside light so I had to take flash pictures and that creates unwanted glares and shadows.)
A closer look at the little makeshift desk.
There are a couple of black accents like this frame and one of the bed's decorative pillows.
Don't you just love those pillows? And a nod to her childhood with one of her favourite polar bears she collected over the years!
I just love how the mirror turned out and how it stands out against the dark paint.
We decorated the dresser, on the facing wall, with some accessories from Ikea.
I think my daughter came up with a clever solution to maximize the use of the space!
Now if it only always stayed that clean...sigh!!
I will show you my other daughter's bedroom next time.
Nicole
Linking up to: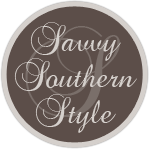 http://savvysouthernstyle.net
Do It Yourself Show Off That DIY Party